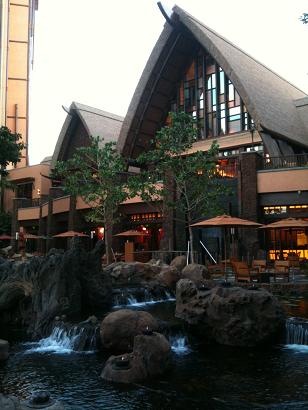 Aulani - a Disney Resort in Oahu

November 2011

We had so many photos with the characters! Please click on them for larger images.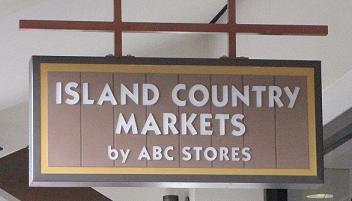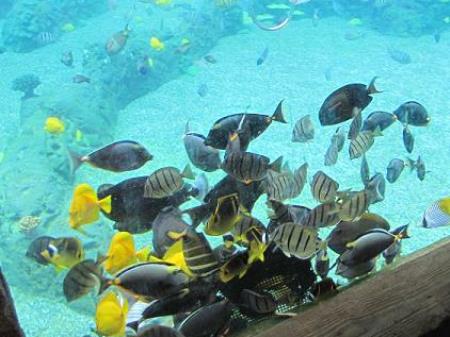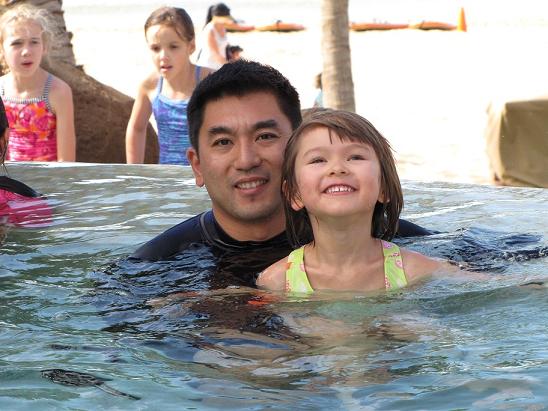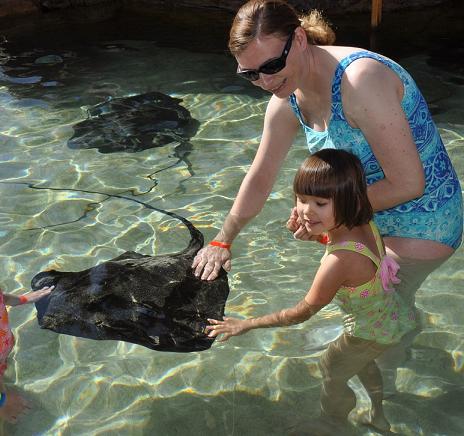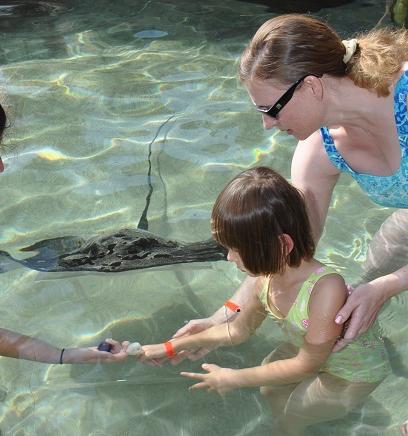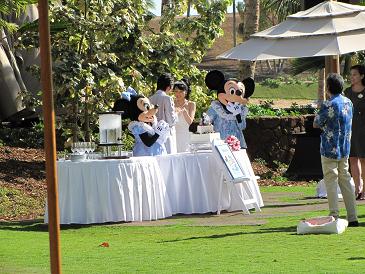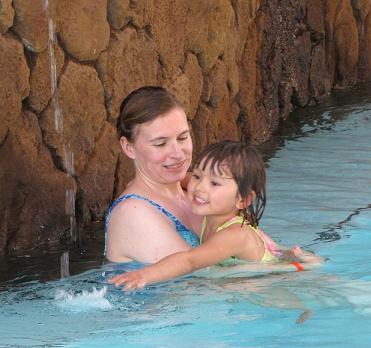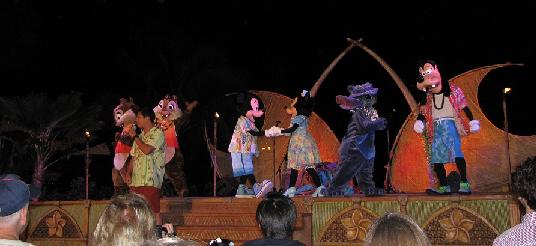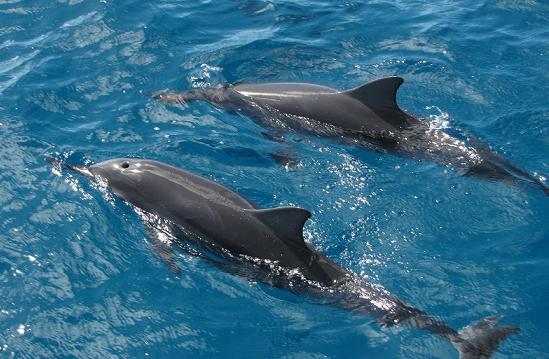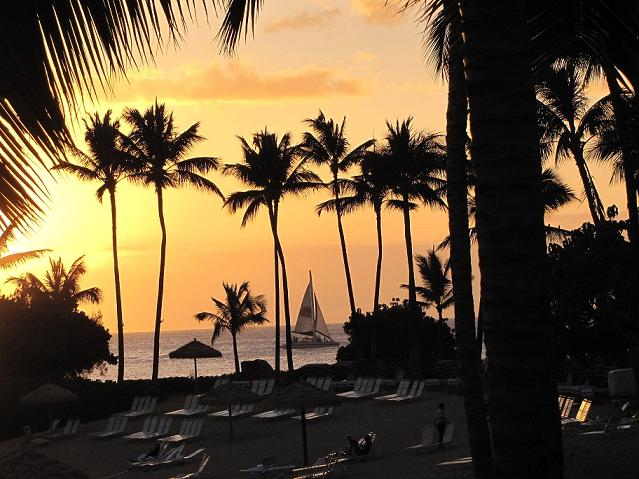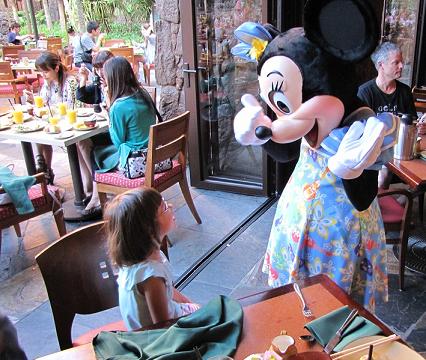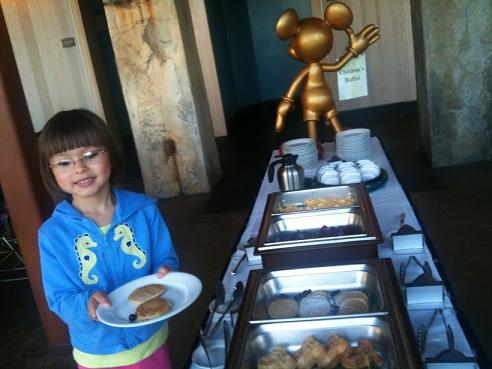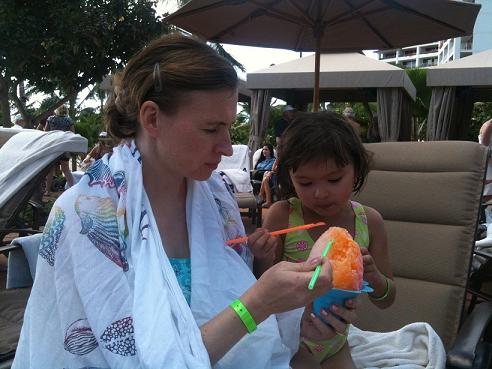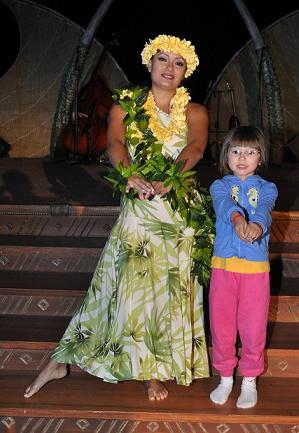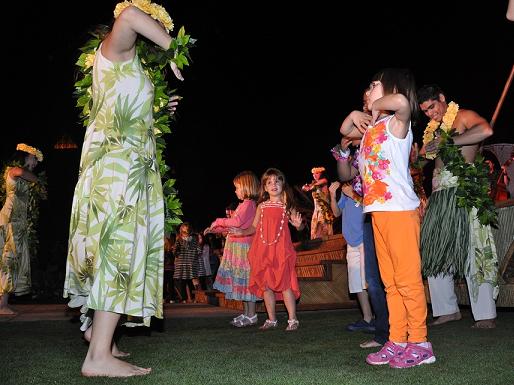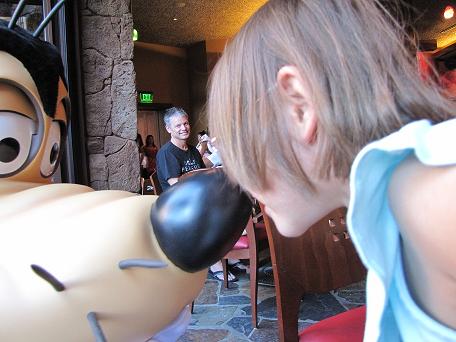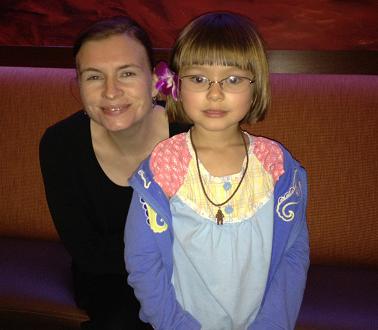 Aulani
is located on the southwestern side of Oahu, in a little "community" called
Ko Olina.
It's a little ways from Waikiki, so for most people, this little gem has remained unknown. But now with Aulani, the main attraction in Oahu has just shifted to Ko Olina.
Please note, the resort opened in August 2011 (so they were open for only 3 months when we went) and was still experimenting with schedules, activities, etc., so please check on your own to make sure things don't change when you're there.

Day 1

As we arrived in Ko Olina, we passed through a gate with security.  I'm not sure whether non-guests of the restaurants/hotels are not allowed, but the security guard had our name on a roster, and we were allowed to proceed. There are two primary hotels here - the
JW Marriott Ihilani
and Aulani, both of which share a beach in a small lagoon like area. There is also
Roy's,
which is a very well known restaurant (see also our Oahu trip from the year before),
Paradise Cove,
which I hear is a very good luau.
Upon arrival at Aulani, we were presented our lei (our daughter received a necklace) and were whisked away to be checked in - we were taken to a concierge desk where Teresa took care of our check in, restaurant reservations, gave us the Daily Iwa, and showed us the map of the property. The welcome was very nice - she took all the time we needed to start our stay. We went up to our room 1531, where our luggage arrived. There is free wi-fi here throughout the resort - this would become useful for the occasional emailing of iPhone photos.

The room was very nicely done - it highlighted Hawaiian culture and crafts as opposed to Disney itself. In fact, the only hint of Disney was a lamp of Mickey. They designed the room well - it was very tastefully done. The only comment I would make is that a partial ocean view could also be a parking structure view - you may be better off getting the pool view on a higher floor. We walked back into the lobby floor, which was beautifully decorated in every direction. There were staff (I mean, cast members) everywhere, all of them very willing to help and share their own wonderful experiences at Aulani.

As soon as we walked out to the pool area, we saw Stitch - he was greeting the kids in a Hawaiian shirt. The wait to take pictures with took less than five minutes, which is unheard of at Disneyland.

We knew about the nearby grocery store called
Island Country Markets
- it is an ABC store - so we walked down the hill and across the street - and found everything from salads made to order, quick take out food and fruits. In the immediate area, there were also an ice cream store, Mexican restaurant, Hawaiian BBQ, etc.
Our daughter went to
Aunty's Beach House,
a kids only club for hotel guests, where she dressed up as Cinderella and did arts and crafts and had a tea party. There are a ton of staff - they were very nice and attentive; on that day, it was 2 staff for every kid when I picked up Cinderella (yes, she was in the costume). I inquired about the cleanliness of the dress - and based on the answer, I was satisfied (let's just say that they go through A LOT of dresses). I then went on to explore the resort - and my wife was happily enjoying the nice hotel room.
We had dinner at Makahiki - a buffet. This is one of two restaurants that require reservations, even for breakfast. It's not cheap either - $43 for adult dinner/ $25 for adult breakfast. The buffet was not bad, but I didn't feel like I ate my money's worth.

After dinner, our daughter went back to the beach house where she apparently dressed up as Snow White and had a blast hanging out.

Day 2

On Monday, we had breakfast at Olelo Room, which basically serves a la carte pastries and other carbs and sugar, as well as coffee and tea. The food was OK, but it was not a filling breakfast. By this time, we had resigned to forking out the money for our morning meals.

At 9am, we saw fish feeding in the Rainbow Reef, where something like 70 species of fish reside.  Our daughter had a terrific time watching the fish (from a window). This "reef" is a glorified pool - don't assume that his is a section of the beach where fish come and go. We followed up the morning with photos with Minnie, and an hour later with Mickey. By this time, we had become accustomed to seeing adults (mostly Japanese - I can say that because I am one too) going absolutely nuts for these characters. What's great here is that the wait time is so short, and they take their time with each person.

We went into the infinity hot tubs until we were well cooked, because quite frankly, the pool water was way too cold for me (though apparently not too cold for our daughter).  The hot tub was therapy - there are two levels of the hot tub, and the hot water overflows from one to the other - so if you sit just beneath the upper tub, you can have the hot water drench you from above - it was like a massage.

We had our lunch at poolside (burgers, lettuce wraps), and our daughter went into the Aunty's Beach House, which by at this time was her favorite place to be.

Then, my wife and daughter did the sting ray experience (there are up to 3 sessions per day - ours was 2pm). This was a one of a kind experience. I didn't join in the fun, but I took photos and listened to the instructors. We learned about sting rays - and in case you're curious, they remove the barbs, which are like finger nails and they grow right back. The participants got to touch them and feed them, all while the professional photographer took pictures (they have Photo Pass here too).

After the experience, my wife and daughter went into a quieter, smaller pool as I looked on a wedding in which Mickey and Minnie were the hosts.

On this night, we decided to have prepared dinner from the grocery store - we wanted to be there early for Starlit Hui (7pm, Mondays and Thursdays only, so book your trip accordingly!). We quickly grabbed our seat on the mat floor (no chairs) and secured our spot, and looked around the several Hawaiian crafts activities which they made available to people to participate. The dancers also gave ad hoc dance lessons to the little kids. The official show started way past 7pm - maybe it was closer to 7:30. The show itself was wonderful - there were beautiful hula dances to some great singing, fast paced ukulele by the duo
Heart & Soul
, some traditional Hawaiian music, and lots of kid participation. This part of the show must have only lasted maybe 45 minutes, but it was terrific - dare I say better than Ha at the
Polynesian Cultural Center
? But the real fun started when the characters came - Mickey, Minnie, Goofy, Stitch, Chip & Dale - in a big dance party where kids and grown ups alike were shaking heir booty and line dancing. The show ended with more character photo ops, and it was all done by around 8:30.
Day 3

On early Tuesday morning, we had breakfast at Ama Ama (yes, reservation required - you can book it online) - it was a wonderful buffet, including Mickey Mouse waffles. This was apparently a trial period - they will go a la carte in December, but I hope they go back to buffet again. They had very nice service - food is $25 per head adults, $12 kids - and very worth it. They were extremely attentive and the food was very good - all with the beach as our background.

The activity for the morning was the
Hoku Nai'a
dolphin watch. Basically, a bus took us out to the marina, and from there we traveled north by large boat along the west coast, all the way to where the road ended. There, along the beach, the dolphins were spotted spinning and jumping - in fact, they came up to our boat and swam with us. By law, we were only allowed to stay there for half an hour, as dolphins hunt at night and we were to not keep them up past their "bed time." This was a great way to see dolphins up close in their natural habitat. We also learned a few miscellaneous things - the wet season starts in November and ends in April - we had caught the early wet season, which may explain the strong breezes in the afternoon (strong enough to wear a light jacket or at least long pants), but the west side of the island remained dry, at least for now.
We spent the afternoon taking photos back at the resort with Donald and Goofy, playing in the pool and hot tub (how do kids do it - our daughter went into the cold pool, jumped in the hot tub and back into the cold pool again, only to repeat this over and over), and having shaved ice on the pool side (note: to keep unwanted guests, you must check in to receive your wrist band for the day. They check your name off using your card key, and make sure that you have not already checked in. And if you want your badge of honor, you keep those wrist bands on day after day, and by the end of the trip, you'll have a rainbow of wrist bands. But why people, why? Anyway, The check in is conveniently located next to the fresh towels. Also - the free water stations are a great idea). Our daughter went running back to Aunty's Beach House once more until dinner, where she (now Snow White), Sleeping Beauty (another little girl), and other princesses learned the hula. We as parents went back to the room to watch TV and play Angry Birds because we were already tired... how pathetic.

Our night ended with a nice dinner at Ama Ama. The dinner was very nice - but frankly, it didn't quite seem special. The service was great, the food came fast and it was all delicious, but as we compared it to Roy's (see Day 4), it wasn't the same. Nonetheless, we had a good dinner.

Day 4

On this day, we had the character breakfast. An important thing to note is that they only have this event on Wednesdays, Fridays and I believe Saturdays, and reservations are required way ahead of time (we booked our breakfast a month ahead). Of course, by this time, we had greeted just about all the characters (I'm sorry to report, no princesses in swimsuits). We first checked in at the Makahiki, and were taken to an outside spot where Mickey greeted us for a group photo. Once that was done, we were seated for our breakfast. Only Minnie and Goofy were making their rounds, but it seemed just fine - Aunty kept the crowd going with lots of songs, interaction with the kids, etc., including Aunty and Minnie parading around the restaurant with kids marching in unison (our daughter was proudly hopping around right behind Minnie). Needless to say, our daughter spent more time with the characters or sitting restlessly waiting for the characters to come than she did eating. By the time Minnie and Goofy came to our table, it was nearly an hour into breakfast, but it didn't matter - she had lots of quality time with the gang.

With breakfast done, our daughter went back to the Beach House to make Stitch's space goo, and we the parents had some quiet time until lunch. When we picked her up, she was Ariel (apparently a new costume for the house).

I spent the early part of the afternoon on the beach with our daughter - so much for making sand castles, we were swimming in the waveless, clear water, as sand colored fish swam at our feet. We finished off with another soaking in the hot tub.

Our daughter sprinted back to Aunty's Beach House, and we took our walk to Roy's across the street in the country club. For an adults only dinner.  As with our previous experiences, Roy's was fantastic.

Day 5

By this time, we felt like we did all that there was. The Rainbow Reef would have been great, but the water is so cold that I could not justify paying money to swim with fish - I've snorkeled in the open waters enough times. Plus, our daughter was more interested in playing with other kids.

And so our daughter went to Aunty's again and we signed up for a premium event for her - some kind of magic show party - which lasted a few hours. My wife and I hung out on the pool just outside the frozen yogurt place and had our lunch there, and later I went on the lazy river and then onto the water slides. The slides are pretty fun - I've noticed that smaller, lighter people tend to wipe out at the end of the tube slide, but the life guards will be there to jump right in for you.

Our dinner on this Thanksgiving night was at the adjacent Ihilani (a JW Marriott hotel). We ended up here because the two restaurants in Aulani were fully booked and we really didn't have much choice. We walked over to eat at Naupaka Terrace, a casual buffet dining place. The hotel itself did not compare - they had a small pool with hammerhead sharks in it, but that was about it.  The guests at Aulani have it real good.

It didn't take long to figure that restaurant was an out of control zoo - crowded, loud, lousy service and not so exciting food. At least we were back in our hotel room early enough for our return to Starlit Hui. The show was again very good (different Uncle this time), but the fun was all the same. Our daughter participated in all the Keiki dances, and when the characters came out, she was out in front dancing away with them. This was a great way to spend our last evening at Aulani.

Day 6

We had our last breakfast at Ama Ama; we'll have had our Mickey Mouse waffles for a while. Our daughter went to Aunty's Beach House for a final morning of fun, and with one last photo op with Donald Duck, we were off to the airport.

And so ended another fun filled vacation....

Thumbnail photos of Aulani - click to enlarge.