Paradisus del Carmen La Perla - a Melia Resort

February 2014

We arrived in the Cancun airport on Sunday afternoon on February 9 after about a 5 hour flight. We exchanged some of our dollars just outside of customs, and we were first greeted by a swarm of time share sales people. We scurried through to the exit and found the real tour company, Best Day Tours. We eventually boarded a minivan to be escorted to our resort.

The driver whizzed through traffic – stop signs were mere suggestions, not requirements. We raced the two lane freeway, weaving between cars like Formula 1 racers, and eventually came to the exit for our resort. The high walls shielded us from view the poorly maintained community just yards away.

We were in awe as we walked into the lobby
Paradisus La Perla
– the modern, colorful yet calming décor and a strong hint of incense were our first impression. It was a beautiful sight, in contrast to the rather understated entrance.  As we checked in, we were served drinks and given a warm welcome. Soon thereafter, we were escorted to sit near the lobby to be introduced to the various offerings at the resort. We booked a couple of dinner reservations for the week and talked about some recommended activities in the area. We were then escorted up to our room by a bellboy to room 1133, a Master Suite.
For our first night, we had dinner at Naos, a buffet for families on the Esmeralda side (i.e., family) of the resort. Interestingly, the divide between La Perla and La Esmeralda is a mere partial wall between the two buffets (Hadar and Naos). A small, understated sign on the Esmeralda side is the only indication that there was an adults only section just steps away. The buffet was not crowded, and the food good. There were families with little toddlers and babies in strollers, but within our own little booth, we were relaxed and enjoying a quiet meal. We then walked back to our spacious room where our luggage awaited. See my
TripAdvisor
comments for more.
Prior to our arrival, we booked our tour to Chichen Itza through Best Day Tours, the recommended agency on the resort. Best Day has a desk on the resort and they were our primary excursion planner. To prepare for the day, we had our breakfast at Hadar, the "adults only" buffet and by 7am we stood at the lobby for our van. We stopped by Paradisus La Esmeralda to pick up a family, and we stopped by a couple more hotels (the Royal was one such hotel) and filled up the van.  After about 2 hours of driving with a pit stop along the way, our first destination was a natural pool in a cave (Cenote).

We continued our trek to Chichen Itza for another 45 minutes or so.  Just a stroll from Chichen Itza, we had our buffet lunch (apparently the first ever hotel near Chichen Itza). Around our tables, the waitresses danced with beer bottles and serving trays on their heads, the obligatory show for tourists. We then walked to the grounds – maybe half a mile, to an entrance to the archaeological site. By this time, our guide had thoroughly lectured us on the history of the area, and how actual Mayan history was so different from the savagery that was originally dreamed up by Mr. Thompson, an oil explorer turned Maya expert by default. That said, the Mayans did sacrifice their elite class – every 52 years, the high class men and women gave their blood in rather painful and dizzying ways, and sacrificed the heads of their representative class. 

The Chichen Itza pyramids were a mathematical marvel and an astronomer's wonder. The many interesting features that were in sync with the sun, the planets and the stars were generations ahead of the rest of the world at the time.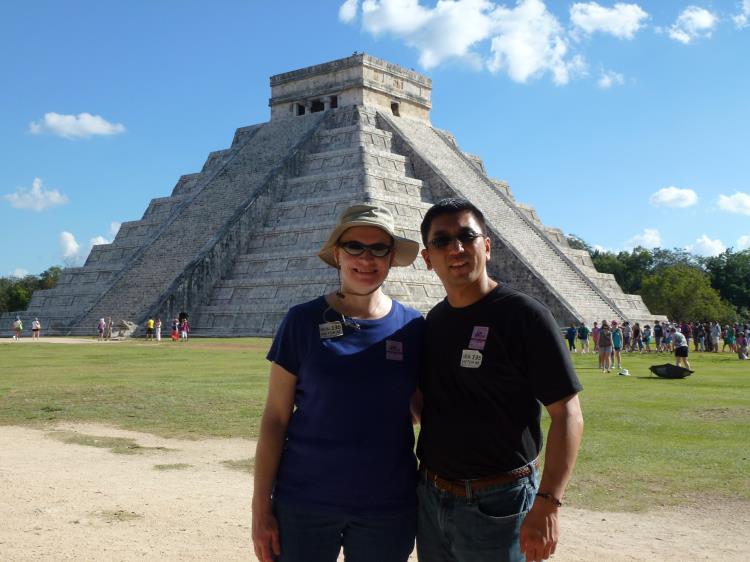 By the time we were back in the resort, it was already past 7:30pm. We rushed to our dinner reservation at Mole, a Mexican fusion restaurant on the Esmeralda side.  Each dish represented a region of Mexico. There, we were treated to a couple of "exotic" local foods, like guacamole and chips with grasshopper and beef tongue (yes, they have tame foods too).

Tuesday was to be an action packed day. We had our early breakfast at Hadar, and we quickly packed our beach bag to go to Xplor at 8:20. We boarded a large bus that shuttled us to the destination just 15 minutes away.

Xplor
is a giant expansion of activities, which consist of two zip line courses, two off-roading courses, two paddle canoeing courses through caves, and two swimming courses through the caves. We opted for the off-roading first, followed by the zip line, a canoe course followed by lunch. We capped off the afternoon with another zip line course, a swim in the caves and another off-road drive.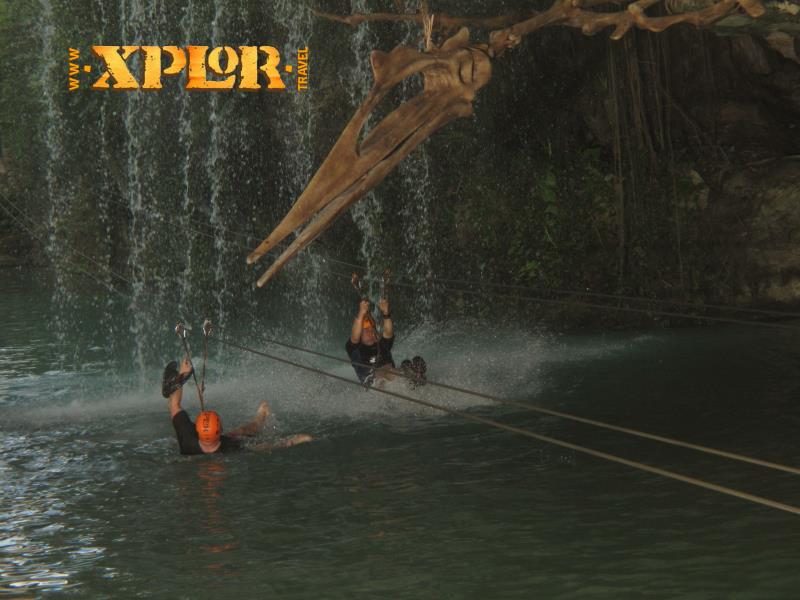 For dinner, we ate at Bana, a Japanese fusion restaurant. In the back is the tatami room where a set dinner awaited us. The room seats around 10 people, but as the other family had to cancel, the two of us were the only guests. Manuel, our server, gave us our own private service.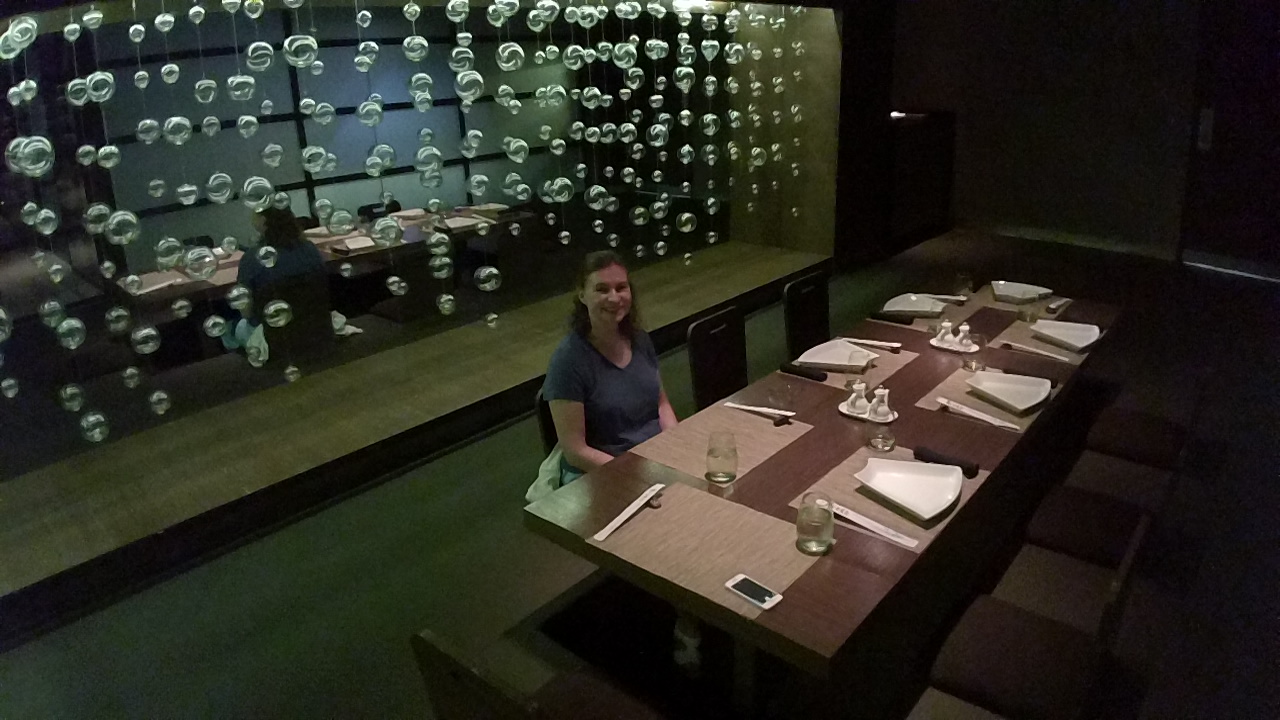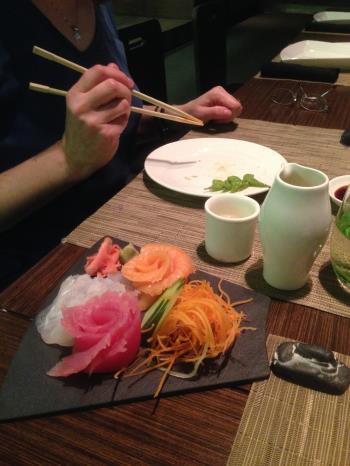 Wednesday would be our lazy day. We spent the afternoon from our balcony, watching people swimming and playing volleyball.

The dinner on this evening was special. We had previously reserved our dinner at
Passion by Martin Berasategui,
an adults only upscale restaurant within the resort. This restaurant was founded by a chef who received 7 Michelin stars throughout the globe – he comes to the restaurant each season to design the entrees. The sous chef is Maximiliano Sola, an amazing chef. Our waiter, Adrian, walked us through each of the items in our 7 course meal – each one a culinary delight. Everything was beautifully presented, and everything tasted so amazing. They even perfectly accommodated my non-dairy needs, such that my wife had one item whereas I had a slight variation. Maximiliano himself came to greet us for our final dessert entrée, which was quite an honor.  This was clearly the best restaurant on the resort, and a perfect evening at the midpoint of our vacation.
At night, the sky lit up with thunder and lightning, as loud, pounding rain blanketed our resort. By 5am, the rain had stopped as if the rinse cycle cleaned the resort for the start of another day.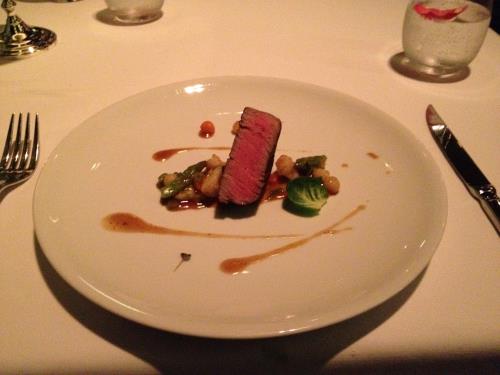 Click to enlarge thmbail photos

We departed La Perla at 7:40 on Thursday morning to get on the big bus to
Xel Ha.
This natural amusement park, about an hour away from La Perla, featured snorkeling, casual walks around the park and lots of cafeteria style food. For an added premium, they offered interactions with dolphins, manatees, snuba, sting rays and massage. We started our activities with a bike ride up to one end of the park, a river raft back down, and snorkeling. We followed up with lunch and then my SeaTrek walk under water to interact with sting rays and large fish. Admittedly, though, we've had better snorkeling in other tropical destinations.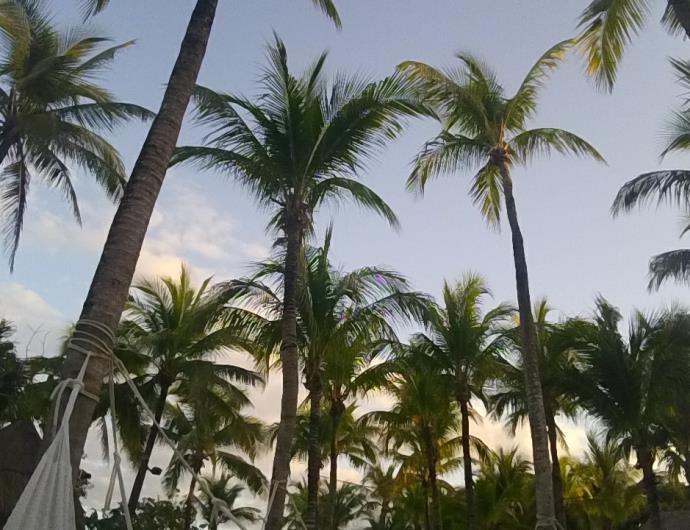 On Friday, our last full day - we spent just a little bit of time in the pool, and we took a quick ride into
Quinta Avenida,
the Fifth Street of Playa Del Carmen. Here, there are many shops that line the street, and just a block away is the beautiful beach.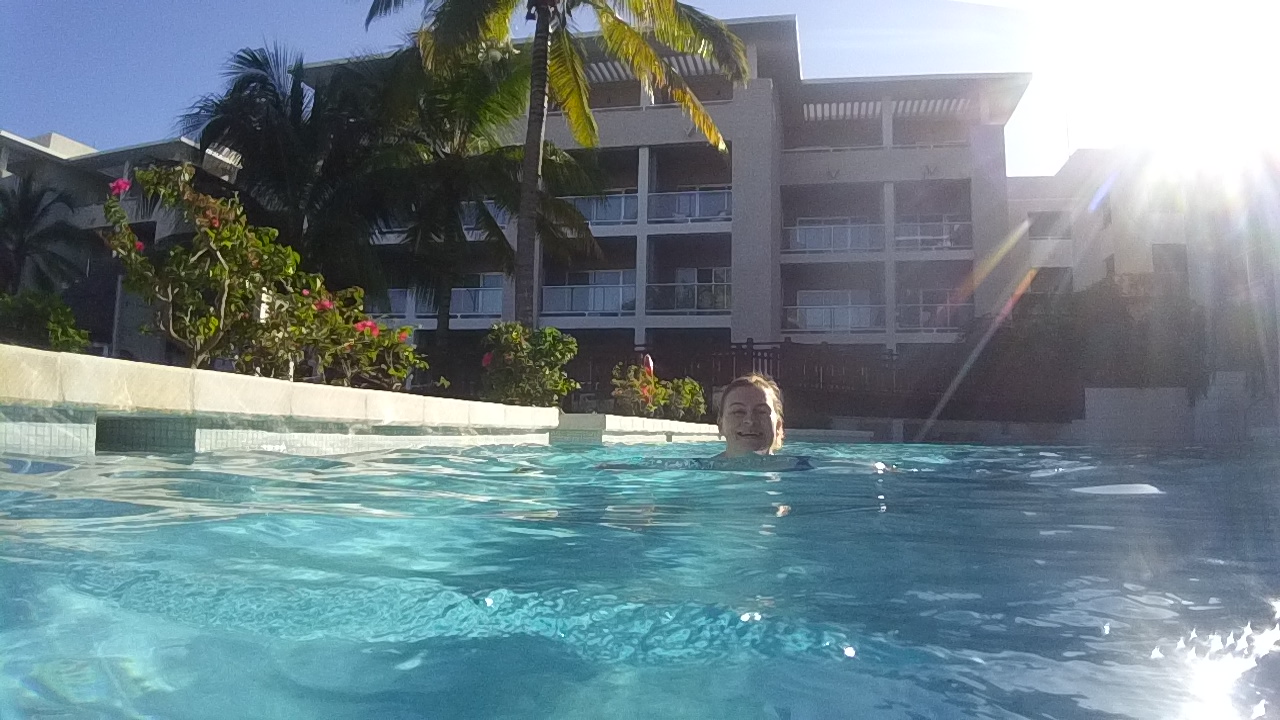 Saturday would be the final day. With a goodbye to the beach (interestingly, we didn't spend time on the resort's beach itself... but here are the obliatory photos), we flew back home. This is one resort we'll have to come back to.